BTS is an initiative that stems towards empowering youths in preparation for what is obtained outside the four walls of the classroom, in this case, the classroom's sphere. To help them realise the contrasting realities within the classroom walls and those of the outside world, while also helping them discover their potentials.
This edition of BTS 1.0 was held on the 27th of April 2016 at Odi-Olowo/Ojuwoye LCDA Hall, Mushin, Lagos. The event featured talks on self realisation and entrepreneurship with prominent dignitaries like the revered Public and Motivational speaker, Abdullah Davies who is also a training M.A at the prestigious Amelda University, USA and the Executive Secretary, Odi Olowo/Ojuwoye LCDA, Mr Rasaq Ajala who was ably represented, gracing the occasion.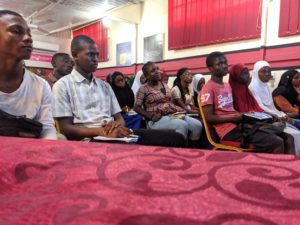 The talk on entrepreneurship was delivered by Mrs Aderinsola Adio-Adepoju, the CEO Deryne Couture who had her first and graduate degrees from the University of Lagos. The event had secondary students, school leavers, University undergraduates and graduates, and Serving Corps members from all across Nigeria in attendance.