Tuesday 3rd January, 2017
It all looked like a fantasy at conception, a daunting task at the beginning, a mirage during the journey but ultimately, we found grace, divine grace. We were always challenged, nonetheless optimistic. We hoped for a good beginning, we got a better kick off. All in all, it was a year to remember for all of us at The Helpmates Foundation (THF).
The Helpmates Foundation (THF) is a Non Governmental Organisation run by a group of concerned youths, conceived out of the growing need for the youths to take charge of their future. The society today exposes the youths to a wide range of ills and vices which impact them consciously or unconsciously. Any nation that has a larger percentage of its population as youths is fortunate. Mary McLeod Bethune once said "We have a powerful potential in our youth, and we must have the courage to change old ideas and practices so that we may direct their power toward good ends". Every nation desires a brighter and more productive future, it is therefore pertinent that the youths are invested in, be it by the government or private sector, it has inevitably become a collective task. The realization of this led to the birth of The Helpmates Foundation in 2015.
Despite been birthed in 2015, THF commenced operations fully in March 2016 with the first of her programmes being BEYOND THE SPHERE (BTS). BTS is an initiative that stems towards empowering youths in preparation for what is obtained outside the four walls of the classroom, in this case, the classroom's sphere. To help them realise the contrasting realities within the classroom walls and those of the outside world, while also helping them discover their potentials. This edition of BTS 1.0 was held on the 27th of April 2016 at Odi-Olowo/Ojuwoye LCDA Hall, Mushin, Lagos. The event featured talks on self realisation and entrepreneurship with prominent dignitaries like the revered Public and Motivational speaker, Abdullah Davies  who is also a training M.A at the prestigious Amelda University, USA and the Executive Secretary, Odi Olowo/Ojuwoye LCDA, Mr Rasaq Ajala who was ably represented, gracing the occasion. The talk on entrepreneurship was delivered by Mrs Aderinsola Adio-Adepoju,  the CEO Deryne Couture who had her first and graduate degrees from the University of Lagos. The event had secondary students, school leavers, University undergraduates and graduates, and Serving Corps members from all across Nigeria in attendance.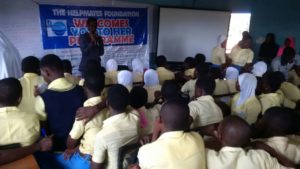 The success of BTS seemed to be like a tip of the iceberg as THF successfully held two editions of Youth Mentoring and Acceleration of Transformated Environment, (YMATE).  YMATE is a long-term mentorship programme aimed at guiding secondary school students towards making the right decisions in actualising themselves, academic and career wise, with the support of seasoned professionals in various fields. The first of the duo had THF visit Royal Regency School in Ajah area of Lagos in July. The foundation was greeted by a warm and vibrant set of secondary school students who could not hide their joy at the foundations presence. 'My constitution and I' was ably discussed by Yinka Ekungomi (LLB University of Lagos), where students were made to understand their rights and obligations under the Nigerian Constitution. Omolola Opere, a student of Biology Education, University of Lagos also discussed 'Digging the mines', aimed at making students realise the need for them to dig deep within them and bring to life that talent which is inherent. The Second edition of YMATE which was held at Zumuratul Islamiyyah High school, Yaba, Lagos, on the 30th of November 2016, was coupled with the pre-launch of another of THF's programme Kit-A-Child (KAC). The Kit-A-Child initiative is one with it's core being providing Educational kits to promising indigent talents in various secondary schools, in Lagos State for a start, with a view of spreading its tentacles beyond the centre of excellence. The pre-launch of KAC had six (6) beneficiaries take home educational kits and support.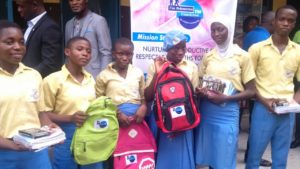 Being the first operational year, the journey so far has indeed being one filled with various challenges, ranging from funding, which includes both financial and sponsorship, to paucity of man power, to legalities amongst others. All in all, we are grateful to God Almighty without Whom, all of these would not have been possible.
We would also like to appreciate through this medium, organisations who stood by THF through the course of the year.  Also, to all individual donors and sponsors, words of the pen cannot measure the depth of our grateful. Indeed you all have been a blessing THF.
Conclusively, we use this medium to appeal to well-meaning Nigerians and organisations who have the interest of the Nigerian youths at heart to support this dream of the youths. All the forgoing programmes will also be held in 2017 as this a continuous project. Remember, When the bones of the old can carry them no longer, their hope is placed in the hands of the youths. The kind of youths with whom their hope lies is determined now. In the words of Maurice Chevalier, he said,  "A comfortable old age is the reward of a well-spent youth. Instead of its bringing sad and melancholy prospects of decay, it would give us hopes of eternal youth in a better world". Let this journey of liberating the future of the Nigerian youths unite us over our ethnic and religious sentiments.
You can also contribute your widows mite towards creating a better Society by contacting us on
Email: thehelpmatesfoundation@gmail.com
Facebook: https://www.facebook.com/thehelpmatesF1/
Twitter : https://twitter.com/thehelpmatesfo1
Instagram : https://www.instagram.com/thehelpmatesf1/
Phone contacts :  +234 817 625 3977, +234 708 981 5430, +234 814 520 2551
Together we can create a better Nigeria and with THF, a better Society.
Come along with us on this journey in 2017.
SIGNED:
OPERE R . O
Executive Director,
The Helpmates Foundation.
LATEEF SANNI A.
Communications Director,
The Helpmates Foundation.